Prvo, da odmah rasčistimo neke stvari. XIOM Musa nije dobila ime po Musi Keseđiji, nema islamsko porijeklo, već Musa (eng. The Warrior) znači borac. To je backside guma koja je po svojim performansama usporediva sa Butterfly Sriver L ili Yasaka Mark V.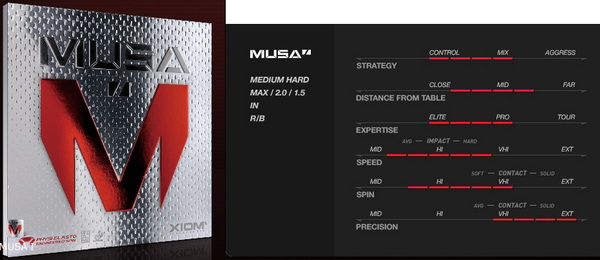 Osim imena, ono što je vidljivo sa omota je da guma ima ugrađenu tehnologiju "Physi Elasto (Engineered Spin)" (što god to značilo), te logo Bios, što znači da je proizvedena u njemačkoj tvornici ESN. Sa desne strane slike je specifikacija, a u zagradama su objašnjenja:
Strategy: control to mix (za sve vrste udaraca)
Distance from table: close to mid (za igru na stolu)
Expertise: elite to pro (za početnike i srednju klasu igrača)
Speed: hi (average impact, hard impact) (srednja brzina)
Spin: hi (soft contact), very hi (solid contact) (srednji spin)
Precision: very hi (soft control), extreme (solid control) (vrlo velika preciznost)
Hardness: medium hard (srednje tvrda)
Za koga je ta guma idealna? Za svestrane igrače (Allround), kojima naglasak igre nije na brzini i spinu, niti u obrambenim udarcima, već u držanju lopte na stolu, u kontroli i preciznosti. To je prava guma za rekreativce.
Guma se proizvodi u debljinama 1.5, 1.8, 2.0 i 2.2. Cijena vani je €29.00, a kod nas 160 kn.
U najavi je, a na kineskom tržištu se već pojavila, guma XIOM Musa II, sa približnom cijenom.