Ima li i u drugim zemljama natjecanja rekreativnih igrača u stolnom tenisu kao što je kod nas npr. Sokaz? To je kao i pitanje: "Ima li života na Marsu?". Normalno da ima. A, kako to izgleda tamo kod Engleza možete vidjeti na njihovom web-u.
ETTA, nacionalna stolnoteniska federacija, kao kod nas HSTS, je ujedinila, na istom mjestu i vođeno istim programom, regionalne rekreativne lige. Naš "junak" (trener) Ben Larcombe iz epizode "Expert in a Year" se natječe u Central London Table Tennis League. Evo kako izgleda njegov prikaz rezultata: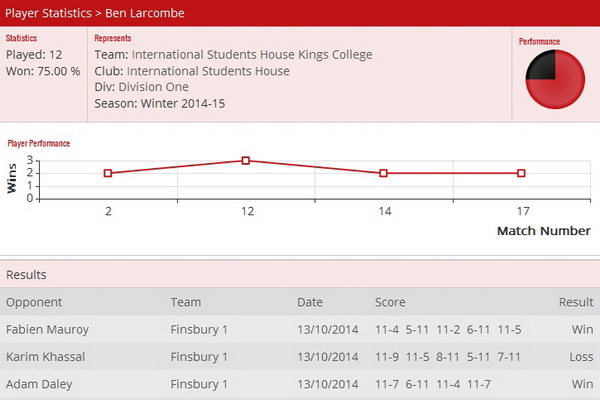 Program je grafički, a omogućen je i prikaz videa, koje neke regionalne organizacije koriste, npr. za prikaz načina lijepljenja guma na drvo. Uz to, objavljuju se lokalne vijesti, iz profesionalnog stolnog tenisa, različiti oglasi. Sve je povezano sa Facebook-om, Tweeter-om, Google+ i dr.